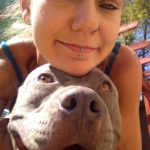 We are here to answer any questions you have and to point you in the right direction for all of your pet care needs. We believe that your pet's mental, physical, and emotional​ well being are related to one another. We work with a large network of positive veterinarians, groomers, other trainers to make sure your furry friend is cared for from nose to tail.
For more information or to schedule an evaluation for training, daycare, boarding, or information about adopting an animal, feel free to call or text Sabrielle at:
386.336.2469 or email thecaninesvoice@gmail.com
Please include your name, dog(s) name(s), what services we can assist you with, and any other relevant information so we can quickly assist you.
For boarding, please include soonest known needed date if possible.
For training, please include your zip code and what you would like to work on.
Paws crossed!